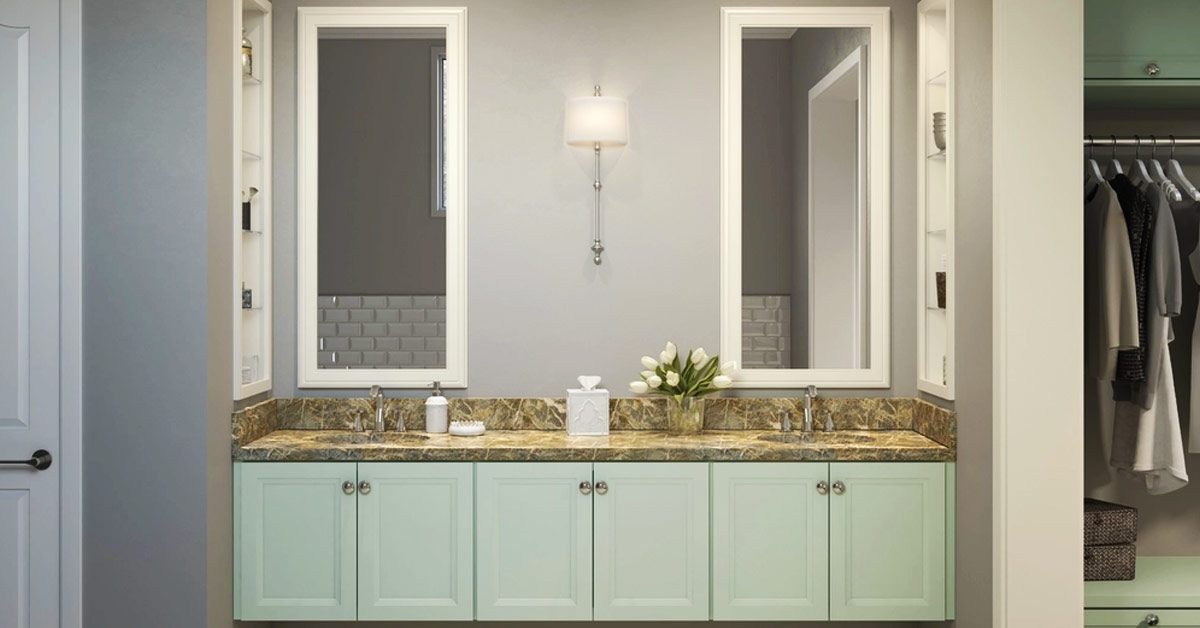 27 Oct

7 Bathroom Design Trends to Inspire Your Next Project

The kitchen is definitely the heart of the home for most homeowners. But the bathroom? That is the inner sanctum, the place you go to relax in a nice bubble bath after a hard day or stand under a steaming shower before you greet the day that awaits. Bathroom design trends these days reflect the individual and soothing nature of your favorite place to begin and end your day.
Our Favorite Bathroom Design Trends
Whether you're doing a major renovation or simply upgrading a weary space these seven bathroom design trends are sure to inspire you.
1. Bathrooms for Biophiles
Does nature put a smile on your face? Do you crave a walk in the woods, enjoy a sunset on the beach or simply love your houseplants like they're pets? Then you, my friend are a biophile, someone who truly enjoys nature.
Let your nature-loving self come through when you embrace this bathroom design trend. Natural textures, light colored cabinets, rough hewn wood, textured walls and terra cotta tiles complemented by cool greens, plants (real or faux) and bamboo mats evoke all the beauty of the natural world. Consider a waterfall showered in your stone shower to raise the vibe another level.
2. Finger-tiles
Finger-tiles are slim tiles laid neatly beside one another to create a look that's both minimalistic and yet so intricately lovely. Also known as KitKat tiles (for obvious reasons) the finger-tiles form a woven and imperfect pattern that somehow looks almost mosaic as you step away. The colors of these tiles offer the perfect color pop to an all white bathroom or the ideal way to elevate a boring bathtub/shower combo. These tiles work well with wallpaper as they don't compete with other patterns or make the space too busy. This is a bathroom design trend that adds texture and depth while calming the room. This bathroom design trend is absolutely going to get bigger.
3. Your Personal Spa Space
So the bathroom design trend that is a spin on the zen-like spa destination isn't new. But, in the wake of a difficult few years homeowners are turning to spa bathrooms in an effort to bring more relaxation and less stress into their homes. Heated flooring, towel heaters, a huge soaker tub, large luxe shower and natural wood shelving complement spacious sinks, colors that are soothing and easy on the eyes and the peaceful vibe we all need these days.
4. Huge Luxury Showers Are Popular Bathroom Design Trends
Homeowners in the Quad Cities and beyond are finding huge, luxurious showers are just as relaxing as soaking in a jetted tub. And not nearly as impractical or maintenance-demanding. These luxe spaces are now the preferred master bath addition and great for post-workout or warming up on a cold winter morning. You can choose multiple shower heads and, with the proper installation, heated tile flooring. You may never want to get out!
5. Marble Brings Elegance to Your Bathroom
Marble is a bathroom design trend that definitely elevates the room to a new level. Savvy interior designers are boosting those marble kitchen countertops and using them atop vanities and for shelving. Non-slip marble flooring is another popular trend in today's bathrooms. You can even choose to line your oversized shower in marble. No doubt you'll feel like a grecian god or goddess when you upgrade to marble. 
6. Large Custom Vanities With Deep Countertops Are a Functional Trend
Homeowners got wise with this bathroom design trend. No more dropping the hairdryer or your favorite makeup brush falling into the wet sink. Custom vanities that offer plenty of storage space are gaining in popularity. Extra pullout shelve and hidden outlets accommodate all of your styling tools. The extra deep sink adds depth to your bathroom. Small bathroom? Custom cabinets can help you maximize storage. We think this bathroom design trend is here to stay.
7. Vintage Bathrooms are Soaring Among Bathroom Design Trends
Today's homeowners who long for the look of yesterday with all of the modern creature comforts of the 21st century are in luck. Vintage-inspired bathroom design trends are on fire right now. From the pastel colored tiled walls and ceramic tubs of early to mid-20th century to the loudly-wallpapered 70s style and even the claw-foot bathtubs of the early 1900s you can reflect whatever style you admire most. But, you don't need to part with your favorite amenities to get the look. The mid-century bathrooms were pretty tight but you can add the truly vintage touches to your large and functional room. Great-grandma's claw foot tub was quick to chill and the room got pretty cold too. Modern replicas of the claw foot tub are much more insulated and there tare so many ways to make your vintage, romantic bathroom warm and cozy.
Bathroom design trends can be fleeting but we feel these are going to be around awhile. These trends are meant to reflect your personal sense of style and comfort while creating the bathroom design of your dreams. Until the next trends come along anyway!
Your Go-To for Bathroom Design Trends
Seiffert Building Supplies helps customers like you find just what they need to create the perfect bathroom space. Whether you want to change the footprint of your current bathroom or upgrade your bathroom design to reflect how you live today, we can help. Contact Seiffert Building Supplies today.