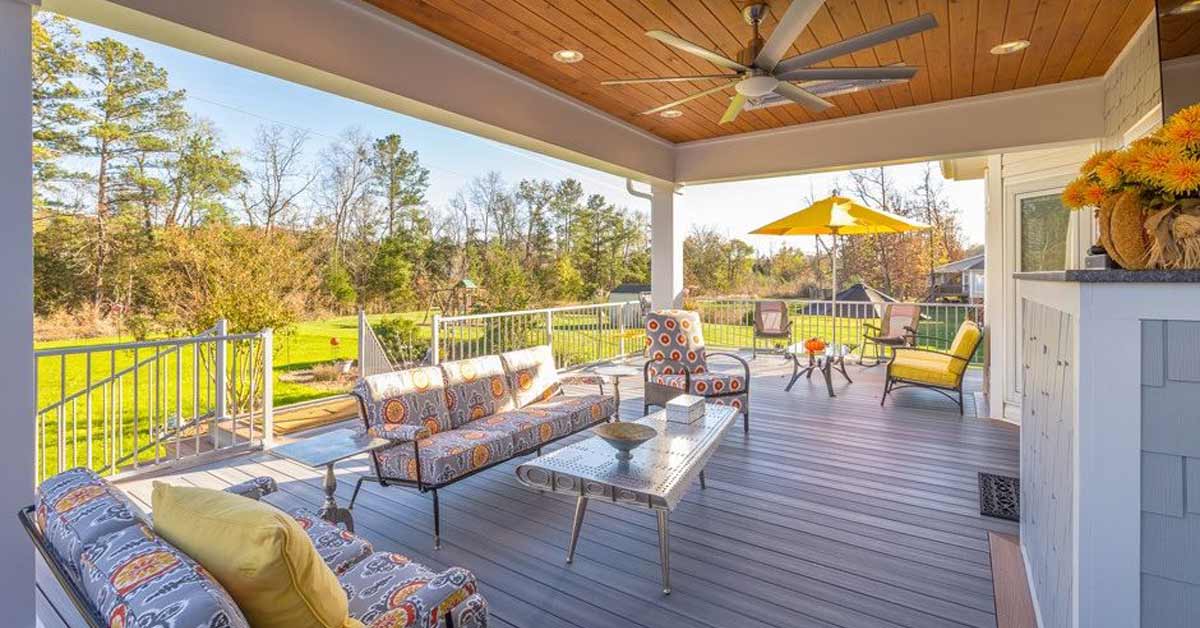 13 Jul

Patio Materials: The 4 Most Durable

Posted at 10:00h

in

Decks

In the midwest, and especially in the Quad Cities, we treasure the beautiful summer days spent poolside, riverside or simply relaxing on the patio. Patio season is in full swing here in the Quad Cities and we want to help you get the most out of your outdoor hangout with the most durable patio materials. 
Your Patio, Your Way
Patios are special places and reflect the lifestyle of the homeowner. A big sprawling patio, for instance, provides an excellent venue for family entertaining. An intimate table-for-two patio setting makes for a lovely spot to sip your coffee, listen to the birdsong and plan your day ahead or sip a glass of wine as you and your beloved wind down from your day.
Because we appreciate our patios so much it makes sense that we use the most durable patio materials in creating them. And the less maintenance the better. After all, patios are meant for relaxation and family fun and the patio materials shouldn't require too much attention. Here we offer a look at 4 top patio materials that stand up to the not-so-pleasant days of snow, ice and severe weather and look good doing so.
Top 4 Most Durable Patio Materials
Designing your outdoor space requires plenty of attention to detail. Most homeowners' first thought for patio materials centers around concrete or pavers. However these are not always the most durable choices. Here are our top four recommendations for patio materials that are low-maintenance and highly durable.
1. Granite Paving
Granite is one of the most durable patio materials around. It's beautiful too. With silver-grey or blue-grey tones granite provides an easy elegance as well as an upgraded style. This choice of patio materials is a wonderful option for a contemporary and bold look. 
High-durability granite is one of the least porous natural materials and virtually stain and scratch resistant. Granite pavers should be professionally installed in order to maintain their durability. It's quite heavy to lift and an investment to be sure. But the payoff is remarkable. 
Your granite paver patio requires minimal maintenance, however, you should seal it properly to prevent water from getting in, freezing and cracking your beautiful patio pavers. Shady areas may require occasional cleaning to prevent algae buildup in wet weather.
2. Engineered Stone
First used in countertops, engineered stone has made its way to patios. And it's offered in many different styles. These man-made pavers are created using a mix of stone, sand and cement along with recycled remnants of other stone products. They're available in an array of colors and style that mimics the real thing. They're eco-friendly and highly durable.
Engineered stone is also much more comfortable as it doesn't retain heat. This means your barefoot won't get burned and your patio remains comfortable even in full sunlight.
This popular, low-maintenance option is budget friendly and has a lifespan of 15 years, with proper installation. It's also an earth friendly choice.
3. Brick Pavers
Brick is the timeless choice in patio materials. Traditional brick has a quality that's both familiar and charming. Brick has been used in building for centuries and, obviously, is a durable substance. You can style the brick in various patterns to create the vibe you want. There are several options in color and size to choose from.
In order for your brick patio materials to keep up their durability they must be installed properly. Your ground needs expert leveling and preparation. When done professionally your brick patio creates a long-lasting, firm and level surface that requires nothing more than an occasional rinse with hose. Brick is eco-friendly and freeze resistant. Beyond the occasional hosing or sweeping you may want to top off your brick with sand as it requires to fill in the gaps.
4. Wood Composite Decking Patio Materials
If you're looking for an extremely durable and maintenance free option for your patio you should absolutely consider composite decking. This remarkable product is fade-proof, resistant to mold, mildew and algae and looks great for years. Composite decking is made from wood scraps and polymers so it's beautiful and sturdy. Comfortable on the feet, this product comes in a wide variety of styles and colors to suit your patio plans. 
Composite decking requires a level and stable base but is fairly easy to install ponce the base is in place. The investment you make in wood composite decking pays off for decades to come. This long lasting option in patio materials requires minimal maintenance beyond the occasional cleaning with regular household multipurpose cleaner to remove dirt and grime. 
Your Quad Cities Expert in Patio Materials
If you're planning a new patio installation or want to upgrade your current patio we can help. We offer a selection of durable patio materials and the professional knowledge you need to make the best choice. Contact Seiffert Building Supplies today and let's get started. It's patio season, after all.