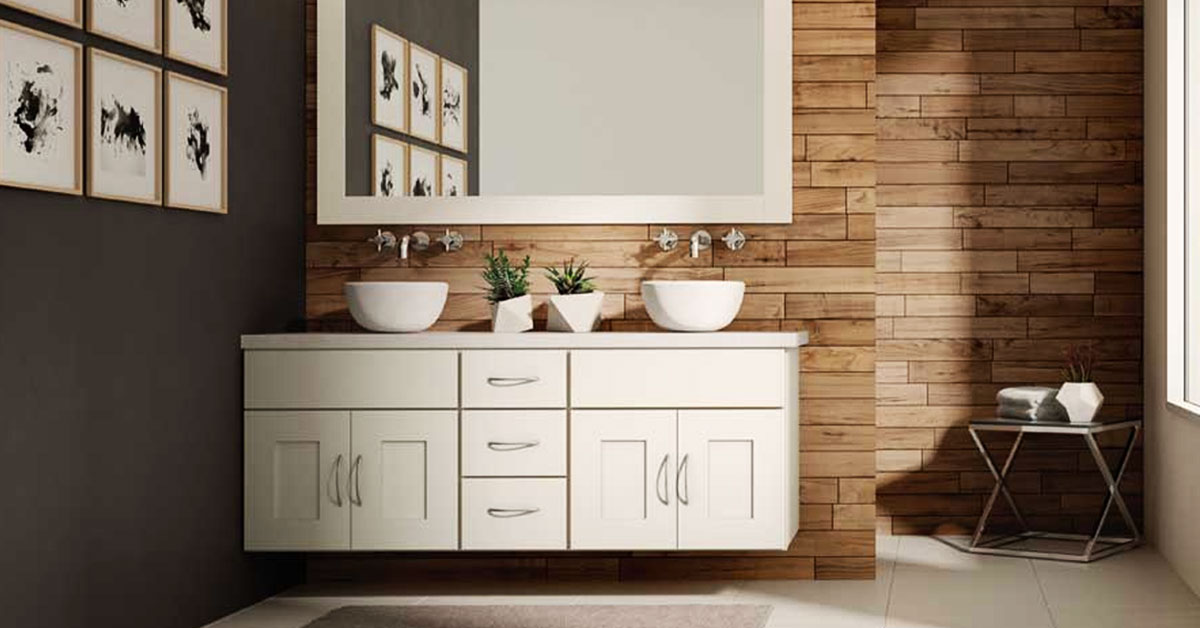 08 Dec

These 8 Features Are Perfect for A Bathroom Upgrade

A bathroom upgrade is one of the most popular remodels today. Bathrooms have always been a top renovation room and now more than ever that's true. Whether you want to remodel for aesthetics or function, turn an ensuite into your private sanctuary or make your powder room inviting to guests we have the lowdown. Here are eight features perfect for a bathroom upgrade.
8 Features for A Perfect Bathroom Upgrade
Take a look around your powder room. Is it too plain and utilitarian-looking? Or are all of your bathrooms looking a little weary and outdated? Those are just two of the biggest complaints from Quad Cities homeowners regarding their homes' most personal spaces. Well, we've got you covered! Here are our suggestions to bring your bathroom into this century and make you even more proud of your home.
1. Begin with Your Home Systems
This may not be as exciting as some other feature improvements but a bathroom upgrade to the ventilation system, radiant heating in the floors or an energy-saving, money-saving tankless water heater are among the most popular bathroom upgrades. Your bathroom can look as much like a page out of a magazine but creature comforts are everything when it comes to bathrooms.
2. A Vanity that Makes a Statement
The number one bathroom upgrade today is the statement vanity. New cabinets are always a popular renovation item but the statement vanity is now the focal point of the upscale bathroom. A stunning custom vanity complete with a quartz or natural stone countertop takes your bathroom to the next level. And custom cabinetry allows you to personalize in a way that solves many storage issues as well.
3. Prioritize Your Shower in Your Bathroom Upgrade
Today's bathroom upgrade features the shower as a focal point. In fact, last year enlarging the shower was a priority for homeowners, making it the second biggest bathroom upgrade. Many homeowners opted to remove their bathtubs entirely and replace them with a 25% larger shower. For the most part, shower designs showcased natural materials like stone or wood. Large waterfall shower heads, and unframed glass enclosures or clean and write all white with subway tiles and multiple shower heads. Showers are fast becoming the new spa-like feature in many a bathroom upgrade. 
4. What's Your Fancy?
Do your tastes lean toward mid-century modern? Or maybe modern farmhouse? Traditional elegance? You are in luck. Trends today are carried through the entire home. That means your bathroom can showcase your style in multiple ways. Add a splash of 70s modern color for that mid-century dazzle or install some antique sconces to reflect your taste. You could replace tile with bead board and raw wood vanity. There are no rules except opt for the style that reflects your personality and the rest of your home.
5. White Still Dominates, But Colors are Coming
The current bathroom upgrade leans heavily toward white. White tile, wall color, cabinetry and countertops still rule but many homeowners are busting that trend in favor of subtle colors like pale blues and grey. Interior designers predict color is back in bathrooms but shower interiors are likely to remain white.
6. Greenery to Calm
Plants truly change the aesthetic of any room and the bathroom is no exception. Consider installing extra shelving, perhaps a few floating shelves, to provide a space for your greenery. Enlarge the vanity to make room for a vase to display some fresh flowers or a pleasingly fragrant bouquet of eucalyptus. And being in the bathroom benefits the plants as well. All of the ambient steam is great for greenery.
7. A Bathroom Upgrade to Add Artful Storage
Storage is one of the most common problems Quad Cities homeowners face. Whether in the bathroom or the kitchen it is an oft-echoed complaint. In your bathroom upgrade include extra storage. Many large ensures haver double sinks in one large vanity. With a custom cabinet design you can ensure the right storage for your needs. A linen closet is another popular idea. Artfully placed floating shelves and linen storage baskets suit any size bathroom. 
8. High Tech is Everywhere
There is a growing trend among homeowners to install high tech toilets. This can be anything from bidets to heated toilet seats, self-cleaning elements and even toilets that light up in the night. Touches bathroom upgrade features like smart faucets that detect motion, interactive LED mirrors that display information such as time, calendar and weather for your day and chromotherapy lighting that you control digitally (or voice activate with your digital home assistant) are popular high-tech items in today's smart bathrooms.
Abiding Customer Service and On-Trend Design
As you can see there are many exciting trends to include in your bathroom upgrade. At Seiffert Building Supplies we help our neighbors as we have for over a century. While times may change the support you receive from the knowledgeable professionals at Seiffert Building Supplies has not. Contact Seiffert Building Supplies today and let's get started on your bathroom upgrade.