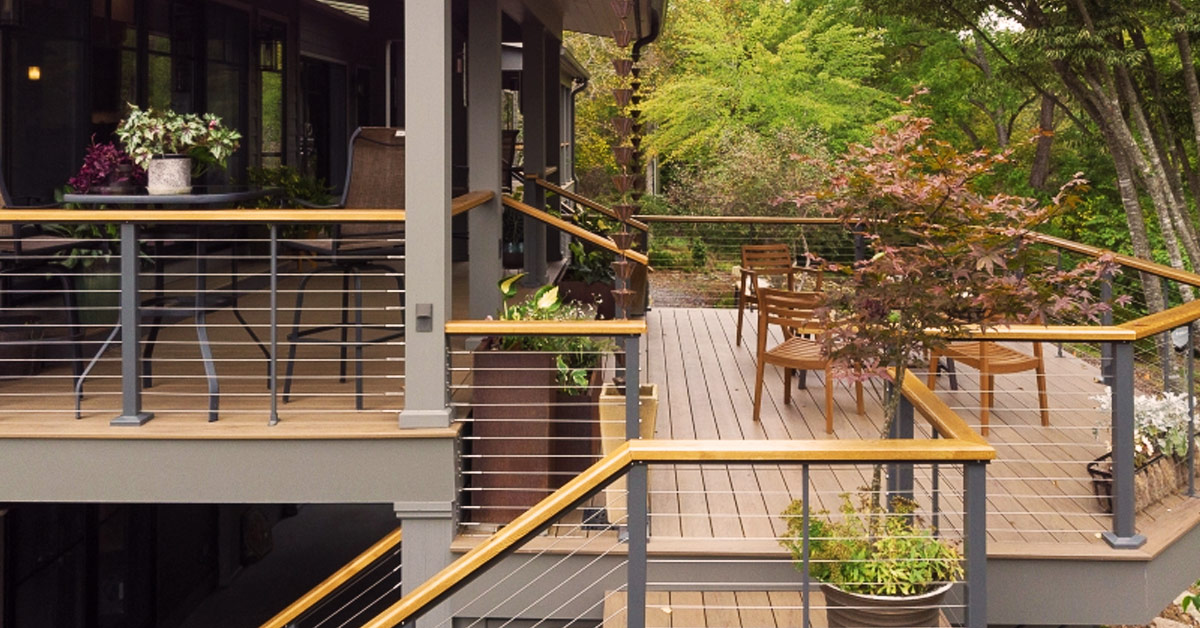 25 Aug

6 Benefits of CableRail Patio Railing Systems

If you have an outdoor deck, porch or raised patio then you need railing to keep everyone safe. Today more and more Quad Cities homeowners are moving away from bulky and view-obstructing wood railing in favor of CableRail patio railing systems. And they are loving the results.

CableRail patio railing systems are ideal, especially when your outdoor space has a view. This  non-obstructive railing system is also a wonderful choice when you have children or and active family backyard. CableRail patio railing systems are a great option for your front porch as well. The style suits almost any decor and is especially complementing to the current mid-century modern trend. What benefits are there to this railing systems? Let's have a look!
The 6 Top Benefits of CableRail Patio Railing Systems
In the last few years cable railing systems are a leading trend for homeowners across the country. No matter the design or style of your home safe CableRail patio railing systems complement the aesthetic and offer a higher grade of safety. They're easy to adjust, maintain and install and last a long time. Is it any wonder CableRail patio railing systems are the most sought after in the country? Here's why:
1. Durability
CableRail patio railing systems are a wise investment. The highly-durable steel and cable railing components withstand extreme weather conditions and come out looking just as good as ever. Your stainless steel railing is corrosion-resistant and maintains its strength under any type of weather. Expect this railing systems to last much longer than traditional wood or even wrought iron railing, preserving safety and appearance for decades to come.
2. Low-Maintenance
With traditional wood railing the maintenance can be a real time-consuming project. Wood railing requires regular sealing and staining and frequent replacement of posts and rails due to splintering, cracking or weather damage. Your deck, porch or patio railing systems require very little maintenance. You may need to tighten the rails (an easy task) or wash with a mild soap and water. That's it!
3. Unobstructed View and Airflow with CableRail Patio Railing Systems
These thin, sleek and evenly-spaced cable rails are so thin and unobtrusive they don't obstruct the view. That means great does as well for those who look upon your beautifully appointed porch or deck will see that gorgeous furniture, awesome grill and griddle or anything else you care to show off. 
What's more, your airflow is unimpeded meaning you reap all the rewards of that cooling summer breeze or the brisk autumn air. The unobstructed nightlines mean you can gaze out on a beautiful view or observe your children at play.
4.  Increase Your Home's Value
These railing systems offer a terrific return on your investment. As we mentioned above, these beauties complement any design from modern farmhouse to mid-century and traditional. The railing is so highly safe, durable, low-maintenance and long-lasting that it's really a selling point. As long as they are installed correctly CableRail patio railing systems maintain their structural integrity for many years to come. That's a definite plus of you're thinking about selling your home.
5. CableRail Patio Railing Systems Are Customizable
Your new railing is completely customizable to your unique preferences and the size and type of porch, patio or deck. You can choose CableRail for your pool deck, front porch or virtually in any setting where you would use wood railing. These railing systems fit in just about any composite or wood decking and also offer customized fittings for posts and stainless steel end caps as well.
6. Your Cable Rail System is Ecologically Sound
Moe than 60% of new stainless steel is made from recycled material. Stainless steel has a long, long lifespan, which is why your CableRail railing system lasts. And with the amount of stainless steel scrap your new railing is doing a favor to the planet. 
Durable, Low Maintenance and Looks Good for Decades
For more on how you can replace your old, clunky and dated deck, porch and patio rails with the new, sleek CableRail patio railing systems contact Seiffert Building Supplies. We offer standard and custom systems for any and every porch, deck or patio configuration. These low maintenance railings keep you, your family and guests safe and comfortable and they are durable enough to stand up to decades of our crazy Quad Cities weather. Contact Seiffert Building Supplies and see for yourself.