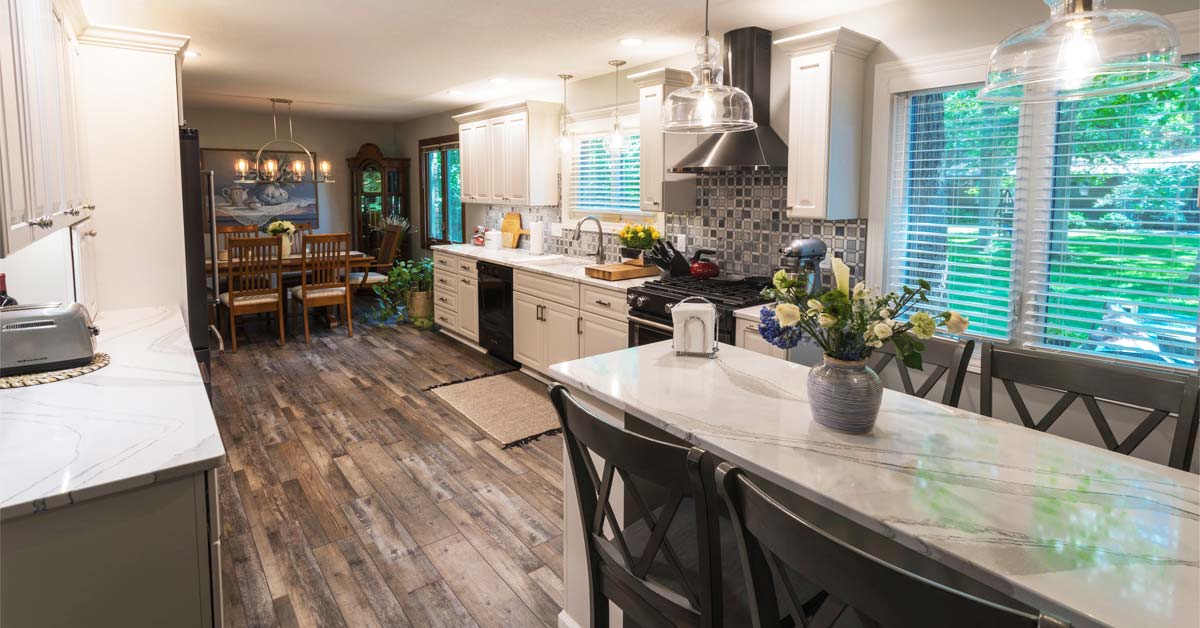 26 Oct

Have a Rental Property? 7 Remodel Upgrades to Boost Its Value

Many homeowners in the Quad Cities area invest in a rental property to boost their income. In fact, according to the US office of Housing and Urban Development between 10 and 11 million Americans currently own one or more individual investment properties. 

If you have a rental property bravo! You're likely satisfied with the amount of rent you charge and surely have researched the going rate. However, with some creative remodel upgrades to your rental property you can easily and, possibly substantially, boost its value. Here we offer seven ways to renovate your rental home and increase the value-not to mention curb appeal!
7 Remodel Upgrades to Boost Your Rental Property's Value
Whether it's something as small as swapping out hardware or a more involved project like adding a room or taking down a wall there are plenty of ways to attract quality renters. Of course depending on your property there are some remodel upgrades that add more value than others. Here we offer the top remodel upgrades to boost value and encourage top tenants.
1. Kitchen Renovation
One of the top remodel upgrades you can make is bringing the kitchen up-to-date and functional as well as beautiful. Mismatched appliances? Coordinate your appliances by matching the finish of the most recent one. Is the refrigerator a relatively new one in stainless steel while the dishwasher is off white and the oven black? Swap out the oven, dishwasher, etc. so they match the refrigerator, if its the newest appliance. Top-of-the line appliances aren't necessary but make sure they coordinate and work well. Other kitchen upgrades:
Replace the cabinets. Especially if they are dingy, damaged or dated. Again, it's not necessary to go for custom cabinets. Just good quality cabinets that are durable enough to last.
Invest in new countertops. New, updated and upgraded countertops change the look of your kitchen. Durable granite or quartz or quartz composite will last and keep their beauty for years (and possibly tenants!) to come.
Hardware and fixture update: new drawer pulls and a multi-function spigot spruce up a kitchen. Adding a stone or glass backsplash keep stains to a minimum. Any kind of low maintenance updating appeals to renters and adds value.
2. Bathroom Renovation
When you consider the top rooms that buyers look for its almost always kitchen and bathroom. The same is true of renters. Prospective tenants place a lot on the look and feel of the home, starting with the kitchen and bathrooms. Well functioning, updated and visually appealing bathrooms set the tone along with a dynamic kitchen. Just like the kitchen the look of your bathroom really improves with a few simple remodel upgrades.
Some of the easiest and most cost-friendly additions include replacing the toilet, installing a multi-function shower head, updating the faucets and hardware.
Storage is something everyone always seems to need more of and your potential tenants are no different. When choosing between possible rental homes extra storage will swing the odds in your direction. Add closets and cabinets to the bathroom area and you'll reap the rewards for sure.
Convert your bathtub/shower to an extra large walk in shower instead. It's much more useful and appealing, especially in a master bath.
If you really want to add a remodel upgrade that boosts value add additional bathrooms to your rental property. Sure, its a hefty investment but it will definitely add to your home's appeal.
3. Don't Forget Curb Appeal
Speaking of appeal don't neglect the look of your home's exterior. Landscaping is an easy DIY and can often be accomplished in a weekend. Here are some ideas to boost your home's curb appeal with outdoor remodel upgrades:
Add a flower bed and fill it with colorful, seasonal blooms.
Paint your home's exterior and replace shutters.

 

Trim trees and shrubbery
Plant new grass
Replace the sidewalk or add new pavers
Replace the porch

 

Add on a bigger porch for better curb appeal
4. New Floors
If the carpeting is more than a few years old consider replacing it. The pads and the carpet itself hold in smells and dirt that is impossible to remove. If the previous residents had animals you absolutely must replace the carpet and pads. Consider laminate or wood veneer or tile flooring as your replacement. It's easy to keep clean, doesn't hold in smells from cooking , smoking or pets and lasts much longer than carpeting.
5. Create an Open Floor Plan
If your budget allows open up the floorplan of your rental property. This remodel upgrade really boosts the value. Knock down some non-load bearing walls and even add a few windows to create a modern and bright living space. This is definitely a project that is not DIY so be sure to use a reputable and licensed contractor. There may be electrical issues, lighting that needs replaced and so forth.
6. Lighting Fixtures
If it's been awhile since the lighting fixtures were replaced and updated now is the time. This is especially true for your bathrooms and kitchen/dining areas. Always have your new lighting fixtures professionally installed. 
7. Paint
One of the easiest ways to update the look of your rental property is through paint. New paint brightens up the space and gives the home a clean and cared-for appearance. Once you've completed all of the remodel updates that you plan paint the interior of your rental home to offer your potential renters a beautiful blank canvas to make their own.
For more on how you can boost the value of your rental home contact Seiffert Building Supplies. We've been helping out Quad Cities neighbors for well over a century and we know what works.