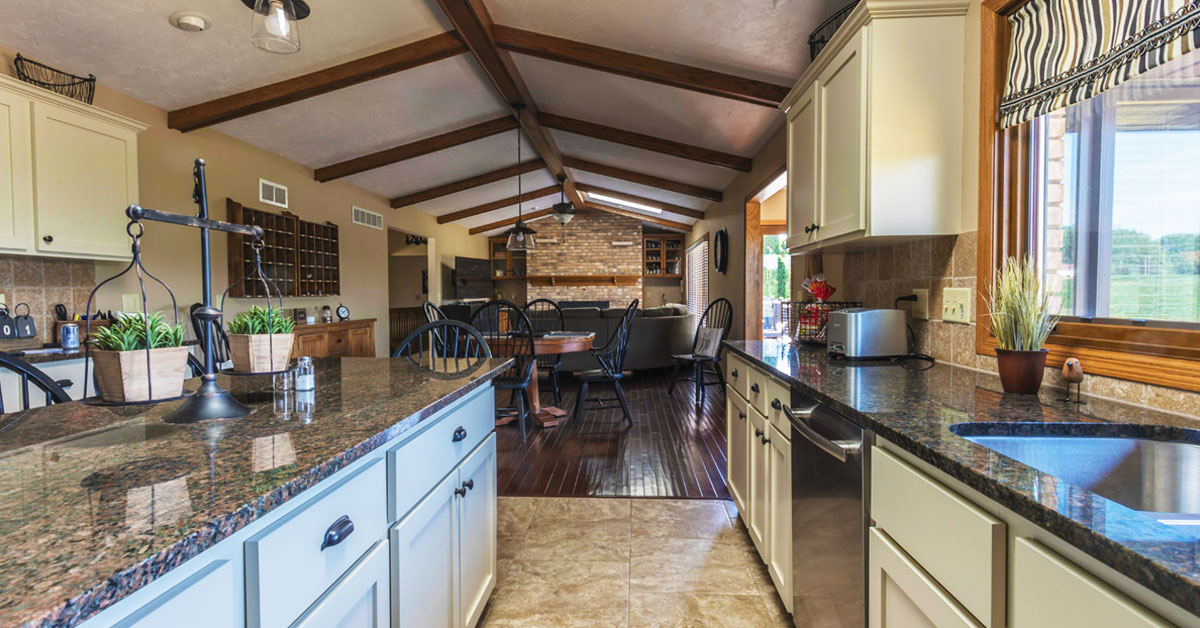 28 Jul

8 Incredible Window Types to Brighten Any Space

Homeowners today, especially in the Quad Cities area, welcome natural light into their homes. But with rising energy costs it's prudent to make sure you have thoroughly efficient windows. Get the most bang for your buck with these 8 incredible window types to brighten your space. 
Our Top 8 Window Types to Brighten Your Space
A room awash with natural light is inviting and cheerful. But you don't need walls of windows to make that happen. It's not just how many windows you have in a room that determines the amount of light but also the types of the windows. Here are our top choices for window types that get the job done.
1. Double Hung Windows
Double hung windows are the most common window design in homes today. This type of window incorporates two sashes-top and bottom. Each sash has the ability to shift up and down, respectively, allowing airflow along with natural light to pour into your room. 
Double Hung window designs come is several different sizes, accommodating any space you may want to brighten up, and have frames made from aluminum, wood, fiberglass and vinyl. They vary in their efficiency but not by much. Look for the energy star rating.
2. Single Hung Windows
Single hung windows are similar to the double hung window designs with on exception; the upper portion of the window is stationary. Only the lower portion moves up and down. Single hung window designs are compatible with aluminum, wood and vinyl frames. Single hung windows offer slightly more efficiency as the upper portion is permanently sealed. 
3. Garden Window Designs
The garden or greenhouse window design is a great way to brighten up your room and nurture your favorite houseplants. Typically homeowners install garden windows in the kitchen area, increasing the cheerful ambience. 
A garden or greenhouse window is essentially a glass box that protrudes out from the house. Because of this design it may not be suitable for your home. If you do invest in these types of window designs make sure you get the top of the line as they offer the greatest energy efficiency. 
4. Casement Windows
Casement Windows are highly energy efficient window designs. These windows are hinged on the side and open to the left or right with the use of a hand crank. They make a great option for above-the-kitchen-sink installation as they are easier to open than a window with an upward sash. Casement windows are typically installed in left/right pairs. 
5. Bay Window Designs
Bay windows, sometimes called bow windows bring three or more widows together to form an angle extending out from the house. These windows make a great place for a cozy window seat or a deep sill that can be used as a shelf. 
The typical bay window has a middle window that is stationary and single hung, double hung or casement side windows. Bay windows increase natural light an airflow in any room and are most often installed in a breakfast nook, dining room, living room or den/library. 
6. Sliding Windows
Like sliding patio doors the sliding window has two panels that slide left or right to allow airflow. Sliding windows are a great investment as they require very little maintenance, have fewer moving parts than traditional double or single hung windows and are extremely durable. Sliding windows are often used as a design mechanism as they are ideal for framing a special view.
7. Awning Windows
Much like casement windows, you open the awning window with a hand crank. The difference with awning windows is that they are hinged from the top. Awning windows tend to be more horizontal in alignment and are a better fit for placement higher on the wall into a narrower vertical space. 
8. Skylight Windows
Skylight windows transform an entire space. Not only do they allow light to flood your home but they open the room which makes them an excellent option for a space that feels a little too crowded. Skylight windows are typically installed in the roof and offer a view of the night sky for star-gazing. There are a few different materials and the pane can be made from glass or plastic. As with the garden widow designs you should aim for the higher end of the price scale to ensure efficiency.
Replace Your Windows and Save Money
If your windows are more than 15 years old you need to replace them. The latest energy efficient window designs will pay for themselves in short order. The brightness boost new windows provide-inside and outside is amazing.
For more information on how you can take advantage of any of these incredible window designs for your hone contact Seiffert Building Supplies today. Our window experts know just what works in the Quad Cities area. We're your hometown building supply go-to and have been for over 130 years.