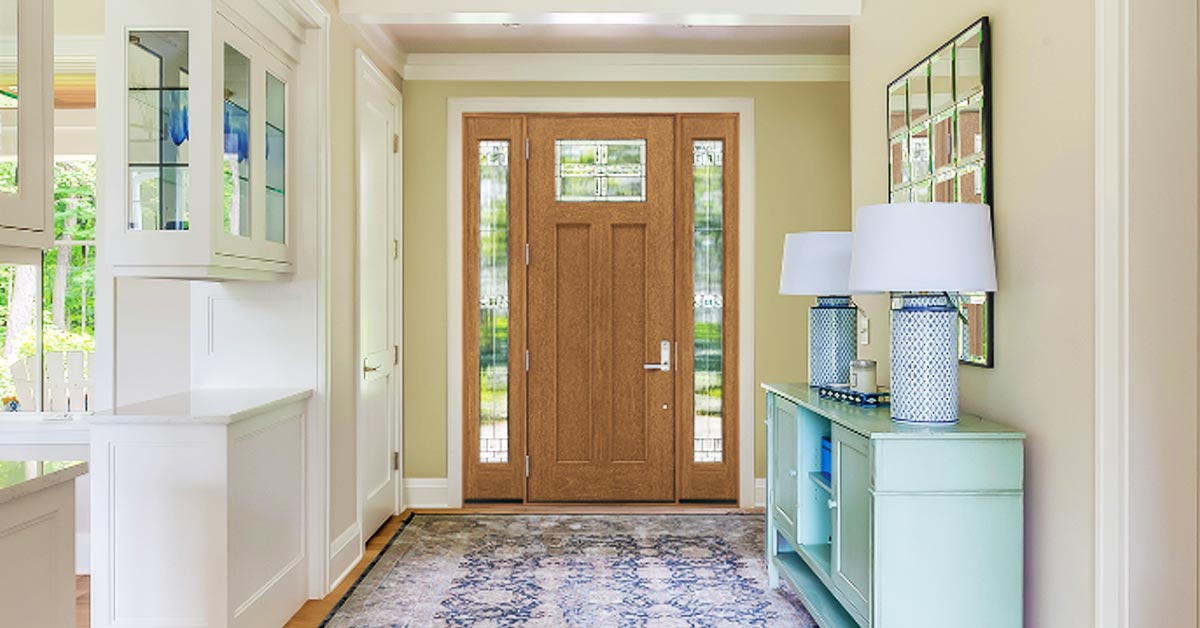 12 Oct

Make a Big First Impression with a New Front Door

A new front door is much more than just a way to get into the house. It's a statement that boosts your home's curb appeal and a reflection of your good taste. It's also a means of protecting your family from the outside, be it weather or intruder. Your front door says welcome to your guests and sees the tone for all who enter your home. If the eyes are the mirrors of the soul a new front door can be a beautiful reflection of what lies beyond.
Make a Stunning First Impression with Your New Front Door
If you're in the market for a new front door you may be overwhelmed by the many different varieties available. There are doors with windows and sidelights, traditional, all wood, farmhouse, craftsman, mid-century modern and on and on. And in addition to the various styles there is also some variety when it comes to materials for your front door.
We're here to clear the way and make it easier for you to select the ideal new front door for your home. Of course you want it to look good, provide a welcoming curb appeal and complement the style of your home. You also want a door that's functional, offers insulating energy savings and, most of all, suits your budget. First let's look at the types of door materials.
Materials for Your New Front Door
Several factors go into choosing your new front door. The first should be the material from which it's constructed. Some materials are more durable and insulating than others, an important factor when you live in the Quad Cities. Here are some of the more common materials used to construct front doors.
Wood is the most common material used to make doors. Wood is naturally energy efficient and comes in just about any style you need to suit your home. Engineered wood, solid wood, paneled or with glass inserts there's a style perfect for your new front door. Wood doors also come in various types of wood: oak, elm, beech, ash, mahogany and more. A solid wood door is extremely energy efficient but also considered somewhat high-end budget wise.
Steel is one of the more durable materials for your door. Doors made of steel typically come with a wood, polyurethane or polystyrene core. Your steel door won't warp or crack and it's easy to change the color with paint.

 
Fiberglass doors are durable and maintenance free. They come in a variety of styles and colors and some designs even mimic real wood. A fiberglass new front door stands up to mother nature and offers a good degree of insulating properties.
Find a Style for Your New Front Door that Complements Your Home
Once you've chosen the right material for your new door you'll move on to finding that perfect style. You want too keep in mind while there are many different styles of doors available not all go with every style of home. For instance, if the architectural style of your home is traditional or farmhouse you probably want to stay away from the mid-century or modern front doors. And you'll need to bear in mind any sidelights or transoms that are currently part of your front door entryway. You'll need to include those in the replacement. Here are the most popular styles for front doors.
Traditional
The traditional door is a timeless classic and suitable for most homes. Wood or fiberglass that is styled to look like wood is a good starting point. Consider a bold choice of hardware and color if you like, or go with the traditional stain and hardware that enhances to look of your home and boosts your curb appeal.
Craftsman
 A craftsman style home is already very eye-appealing. Your new front door should be equally so. Consider a door with a "craftsman's light" at the top. The insulated glass allows light to stream in and keeps the extreme temperatures outside.
Modern or Contemporary New Front Door
The beauty of the modern or contemporary home is in the clean lines and plenty of natural-light friendly windows. Continue that beauty with your new front door when you select a sturdy steel door with glass insets that accentuate the beauty of your home's style.
Farmhouse or Cottage Style
The farmhouse or cottage style home already has a welcoming vibe. Make your new front door stand out in the same friendly manner. Opt for wood panels or a fiberglass door that mimics the wood paneled look. Or, for some whimsy and a pop of color go with a steel door with a window in a curb-appealing color that complements your home's exterior.
Don't forget the hardware when selecting your new front door. Sure your front door hardware needs to be functional but it can also be elegant or fun and echo your personal sense of style.
A Big First Impression Starts with Us
At Seiffert Building Supplies we understand making a big first impression is important to our Quad Cities neighbors. That's why we carry a full selection of new front doors for your home. Our full line of front doors are available to complement every style home. Contact Seiffert Building Supplies today and let us make a big impression on your.
Image: Pexels