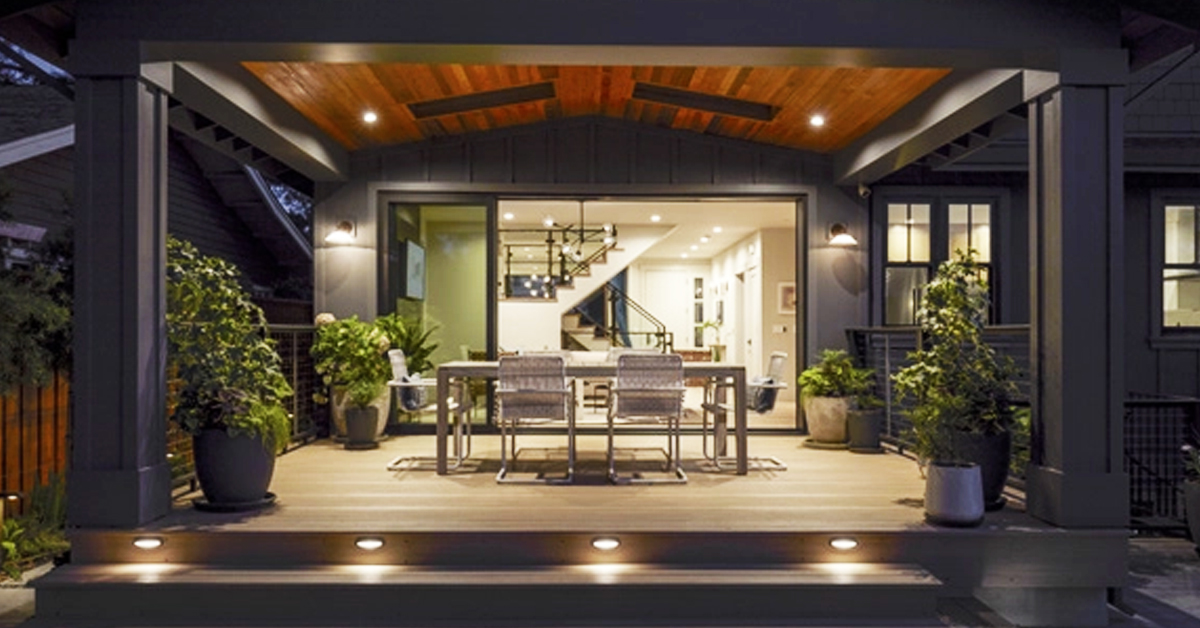 25 Nov

Amazing Deck Designs Worth Every Penny

When the weather warms up Iowans love to head to their favorite their outdoor spaces. One of the easiest ways to enjoy the great outdoors in style, without leaving home, is by relaxing or playing on your very own amazing deck. Make your deck a desirable destination with these amazing deck designs worth every penny you invest. 
Raising the Bar on Amazing Deck Designs
Whether entertaining on the weekends and summer holidays or just enjoying the view with your family on a week night a built-in bar is one way to take your amazing deck next level. Use the same product for your bar as you use for your deck for a seamless and cohesive look. Use wood to create a butcher block top to your bar or consider a metal bar top for a trendy rustic aesthetic. 
Really amp up the outdoor living atmosphere and install a functional mini-kitchen. Add a grill, refrigerator, sink and more to turn your outdoor cookouts into an easy and laidback opportunity to entertain. 
Let Safety and Privacy Prevail
Nothing takes away from enjoying time on your amazing deck like nosy or rowdy shenanigans coming from next door. If your deck space is too close to the next home for your comfort consider adding a wood slat screen. A wood slat screen is both stylish and provides a good degree of privacy. Use it to screen off a portion of your deck to distinguish specific areas, such as a dining area and a "play" area. 
If you don't really like the idea of wood slats or are only in need of occasional privacy consider a roller shade. You may need to install a pergola to facilitate the roller shade, but that will only add to the panache of your amazing deck. If nothing else you can always go with all-weather room dividers.
Deck railing incorporates modern style, seamless design and safety making your amazing deck lovely to look at. For a deck with a view consider cable railing. Railing made from durable and weather-tough stainless steel provides the perfect degree of safety along with an uninterrupted view of your yard and beyond. Composite wood railing provides safety and a bit of privacy without taking away from the style of your outdoor space. 
Level Up For an Amazing Deck
Does your yard have plenty of space? A multilevel deck brings beauty and livability to a spacious yard. For those with a second story deck adding a level below provides room for even more fun and relaxation. 
Some Quad Cities homeowners find a second "island deck" a comfortable retreat away from the main deck. Use it for a reading nook or a space for the kids to play. Use composite deck materials to eliminate the need for continual maintenance like power-washing, staining and applying sealant. 
Angle corners on a leveled deck to create an illusion of space if your yard isn't large. The look of an angled deck is modern and on trend. 
Amazing Side Deck
Sometimes the backyard doesn't lend itself to outdoor living. It might be small and a deck would feel too confining, or perhaps your side yard provides more privacy. You may simply prefer the space at the side of your yard over your backyard. Maybe you'd like a smaller outdoor living area away from the main deck. Whatever your needs, a side deck accommodates.
Construct a side deck according to the size of your side yard. A narrow yard is perfect for a small deck for two. Just the right amount of space for cocktail hour or a delicious al fresco meal. Your own personal relaxation station! 
Tree Hugger's Deck
For those Quad Cities homeowners who would love an expansive outdoor retreat but your favorite tree is in the way consider building your amazing deck around the trunk of the tree. Not only will you be able to show some love to mother nature by preserving that beautiful tree but you and your guests benefit from the shade. The unique beauty of a tree-hugging and amazing deck design is truly inspiring.
Fixtures, Furniture and Dazzling Details
Finally, your amazing deck design is a standout when you incorporate specific and unique fixtures. Post toppers can be ornate, colorful or simple and rustic. Do you have stairs attached to your deck? A unique gate at the top of the stairs provides security and interest. 
Looking to furnish your deck? The traditional umbrella table with chairs is functional, but conversation areas are very much on trend today. A couch, loveseat, large chairs and side tables turn your outdoor living space up a few notches. Colorful waterproof cushions add style. Toss a few outdoor throw cushions around for added comfort and sophistication.
Bright colored pots spilling over with flowers brighten any space but add them to your deck and you'll definitely turn upon the volume. Add a pergola, partial or full, for an architectural detail that adds so much to your already amazing deck design. Replicate the decor and ambiance of your home on your deck and you create a true outdoor living environment.
Where to Begin
Of course every amazing deck begins with a solid foundation. For your deck floor and any fixed seating choose the most durable, low maintenance, environmentally friendly and stylish product. At Seiffert Building Supplies we specialize in the latest composite decking. Contact Seiffert Building Supplies today to speak with one of our knowledgeable design professionals. Turn your favorite home outdoor space into that desirable destination you crave. 
Image: Pixabay