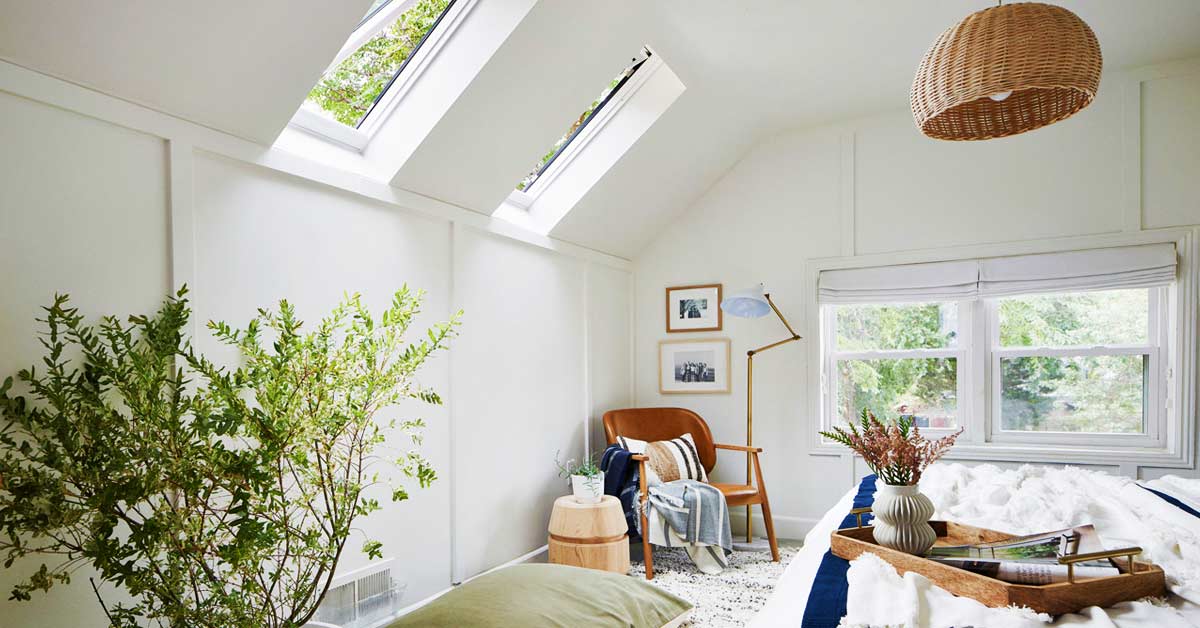 09 Mar

Skylights: 8 Reasons You Need One

Homeowners in the Quad Cities area who want to breath new life and light into their home need to consider installing a skylight. With the addition of a skylight, or even a few skylights,  you can instantly change the aesthetic appeal of your home. And it doesn't involve a major renovation. Once you flood your home with more natural light it does wonders for the ambience.
8 Reasons You Need Skylights
Natural light automatically enhances the way your home in so many ways. With the addition of a skylight those bright and airy rooms make your home look and feel much more open. And todays skylight technology ensures, when properly installed, even the inclement weather days in Iowa won't disturb your indoor comfort. Here we offer eight reasons why you need a skylight in your Quad Cities home.
1. Improved Ventilation
Even though the skylight is in place on the roof, that uppermost placement aids in expelling hot air from the room. You can level up the circulation in the room, and your entire home, with the addition of remote-control ventilation. Fresh air circulates throughout your environment. When this feature is part of your bathroom skylights, moisture releases through the vents. Installed in the kitchen a vented skylight allows in more light and allows cooking odors to escape. In homes or areas of homes where it's impossible for standard window installation (e.g. attic bonus rooms or the upper level of a Cape Cod style home) vented skylights are a great solution.
2. Home Energy Savings
At it's most basic, a skylight allows more natural light into any room which means less need for turning on the electric lights. Consider your skylight another lighting element in the room. Skylights lower your utility usage too. In the winter your window to the sun allows light to flow through and warm the area below. In the summer vented skylights release the warmest air as it rises. This means you rely less on HVAC and more on the power of natural light and fresh air.
3. Enhanced Natural Lighting
We all agree skylights let in natural light, which is highly desirable as an aesthetic detail and also increases resale value. When you install a skylight the light distribution in the room is far more efficient than it is through your windows.
4. Brightens Up Small Spaces with Skylights
There's no easier way to brighten up those tucked away small spaces. Do you have a dark alcove or a landing that's in need of brightening up? Install a small skylight or tubular skylight. Make use of those dim areas by opening them up with natural light. You can even install a skylight in the dressing area of your closet.
5. Up Your Resale Value
Skylights amp up the aesthetic beauty and definition whatever room they are in simply by allowing mother nature's own light to shine. And today's skylights are energy efficient and water tight. Installed properly there's no need for concern over leaks or escaping energy. There are many things you can do to improve your home's value and this is one. If you're considering selling your home in the next few years a skylight is an attractive investment.
6. Customize Your Aesthetic
Use thee addition of a skylight to enhance specific architectural and environmental details o your home. Strategically placed skylights allow an eye on the natural world and bring a sense if the beauty of the outdoors into your home without disrupting the comfort. 
7. More Privacy With A Skylight
When you install windows in your home it certainly adds to the bright and open aesthetic. But, windows also rely on placement for their advantage to be realized. For example, you don't want your windows to look out on a less than lovely view, say your neighbor's trash cans. Nor do you want your window offering a pool into your own home and goings-on. Skylights provide the bright and open aesthetic without an invasion of privacy or a view best left unseen.
8. A Source of Sunlight and Its Benefits
There are so many benefits to installing a skylight that can improve the function and feel of your home. But, did you know that bringing in more natural light to your living space you can actually increase your families serotonin and dopamine (feel good) levels? The natural light enhances your body's circadian rhythm which means a more restful sleep. And natural light decreases your stress levels making your home your own personal refuge from the world.
The Experts in Skylights
If you're looking to add resale value and a casual elegance to your home and boost your mood consider installing a skylight. We have a number of available options including the popular Velux brand. As you can see there are many benefits and the return on your investment is high. We've been serving our neighbors in the Quad Cities area for more than a century. Find out why we are the preferred source for design and building supplies.