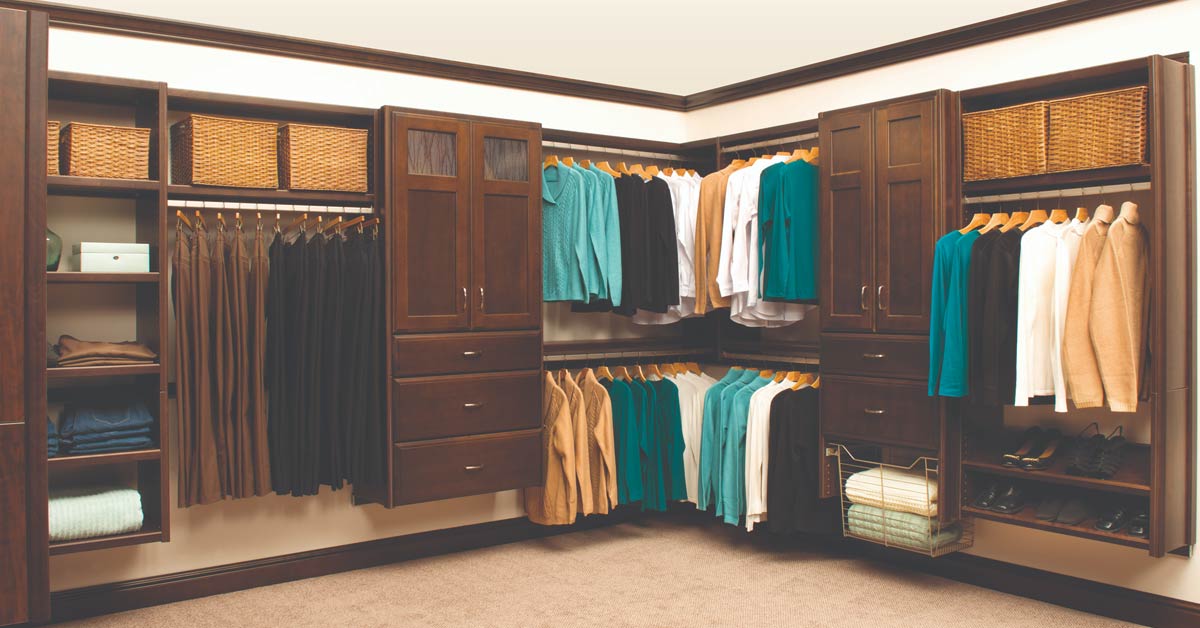 25 May

Thinking of a Custom Closet? 6 Signs You Need One

A custom closet solves so many of life's shortcomings. Well, at least as far as organization and storage of your personal belongings, anyway. Whether you design a closet worthy of the Princess of Wales or something much more simple yet easy to organize, a custom closet makes a huge difference in your home.

If your current closets are filled to bursting or you need a detailed map to find your favorite running shoes it may be time to consider a custom closet. Recent studies show clutter and disorganization contribute to stress and anxiety in most people. Here we give you six sure fire signs you need a custom closet in your home.
6 Signs You Need to Invest in A Custom Closet
A custom closet is an investment it's true but you need to think about the convenience of a closet that's customized to your specifications. Not to mention the amount of resale value such a large and easily organized space adds to your home. But, how do you know if you really need  to make the investment in such a space? Here we offer six signs to help you decide.
1. You Have Limited Storage Space
If you have too little closet space and find yourself moving things around to accommodate your surroundings, even when it makes zero sense (shoes in the linen closet? Sweaters in the oven?) you need to do something. A custom closet maximizes your potential storage and provides the solution you need to store everything in a designated  and organized place. 
2. Inefficient Use of The Space You Have
Take a look at your current closets. Do you see areas where nothing seems to fit? That's wasted space. When you customize your closet you'll use every square inch and optimize the use of the space you have available. Best of all your entire closet space is customized to your needs.
3. Clutter, Disorganization and Difficulty Finding Things
 Well, who hasn't ever experienced a cluttered closet? If you are someone living in the chaos of disorganization, if you'd rather go out and buy something new than search for that specific item you know is in there but you can't seem to find, consider a custom closet. A chaotically disorganized closet can occur in even the tidiest arrangement. But when you have a space designed to store your specific items in an easy-to-find manner you feel much better about your surroundings and as though you can breathe.
Picture your shoes, accessories and additional accoutrement visible and easily accessible. Your clothing is organized in a way that doesn't require searching through jammed pieces hung haphazardly. With a well-designed custom closet system you can have the organized life of your dreams. Or at least a start. 
4. You Have Specific Storage Requirements
 Some homeowners in the Quad Cities area have specific storage needs. If you are a competitive athlete you may need space for your gear. Those who attend many social functions likely require space for formal and semi-formal attire as well as accessories and jewelry. A custom closet accommodates any unique storage situation you may have. Secure, hidden jewelry drawers, lined and lockable are a popular option. Dressing areas and even an alterations stool are some other options. Anything goes in your custom designed closet, as long as you are happy!
5. Your Lifestyle Has Changed
Many events throughout a person's life determine their needs, including their storage and organizational needs. Just ask any brand new parent. If you are growing a family organization doesn't just make things easier, it is a total game changer. And a custom closet in the nursery is an ideal why to begin. You'll know where baby's necessities are at any given time. You can even include such things as a changing table and diaper storage. 
Tweens and teens tend to be involved in many extracurricular activities that require special equipment. Do you need space for a musical instrument? Sports equipment can be easily stored in a space customized to suit. For those who want to age in place a custom space and the organization it brings is very helpful. A closet can be customized to meet the needs of your family now and into the future. 
6. A Custom Closet Provides Aesthetics
Finally maybe you need to customize your closet for the sake of aesthetics. A custom closet can be both functional and lovely at the same time. Perhaps a sitting area where you can reflect on your day? A large closet with dressing space is useful and aesthetically appealing. The sky's the limit when it comes to your custom closet.
Design Your Custom Closet With The Best
If you want to provide ample storage space and live a more well-organized life it's time for that custom closet. Seiffert Building Supplies has everything you need to make life easier with a new, custom designed closet. We'll create a special place, just for you, that meets all of your storage needs. Contact the professional project design experts at Seiffert Building Supplies and let's get started.