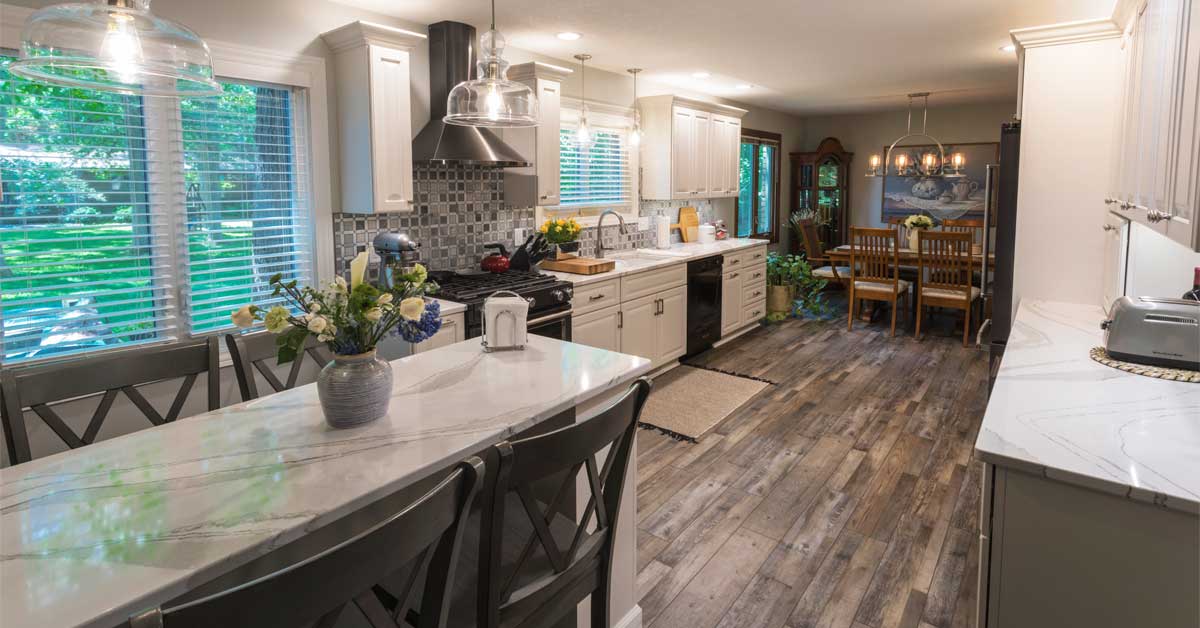 14 Sep

5 Myths About Kitchen Remodels Debunked

Kitchen remodels are exciting. You can unleash your creativity and turn your kitchen into a functioning and beautifully designed room where family and friends can't wait to gather. Kitchen remodels allow homeowners to achieve their specific goals for the kitchen of their dreams.

Are you a home chef who unwinds by discovering new ways to make outstanding dishes? Do you crave a well-organized space where you can efficiently pull together a family meal or a celebration? Maybe your kitchen is painfully outdated and you really want a refresh. No matter the reason or desire kitchen remodels make your life easier.
5 Popular Myths About Kitchen Remodels Busted
Whatever your ideas and plans lead you kitchen remodels are a big source of confusion and overwhelm.When you remodel the heart of your home you'll hear many myths regarding the process. Let us help you uncover the reality of your project so you can experience a fulfilling and beyond-satisfying end result.
1. Kitchen Remodels Make Great DIY Projects
In the words of Clint Eastwood's famous "Dirty" Harry Callahan, "A man has to know his limitations.". While we're sure the fictional inspector was referring to something else entirely truer words were never spoken in reference to kitchen remodels.
Even the most basic project is best left to the professionals. Replacing cabinets, countertops, sinks and built-in appliances requires precision. Electrical outlets, plumbing and any encounters with HVAC components such as vents create issues for the average Quad Cities homeowner. Make a mistake in any measurements or repositioning and it could end up costing you much more than you anticipated saving-and pose a health threat to you and your family. A licensed experienced professional could save you money-and heartache- in the long run.
2. Showcase the Latest Trends in Your Kitchen
Changing your kitchen and embracing a more modern look doesn't necessarily mean scoping out all the latest trends. If your kitchen is trend-heavy you can count on it showing its age much sooner than it should. Look ahead to the next decade and stick with some of the tried and true classic design elements and long-lasting innovative trends. You'll get a lot more mileage out of your remodeling project if you limit the trends to only those things that help you and your family. Technology might be impressive but some of the smart home components become outdated as the tech improves. Discuss your plans with your design pro, project manager and support team.
3. You Need to Stick to A Strict Budget
Until you actually begin talking to a professional you won't know what kitchen remodels entail. Your overall design goals determine your budget. Are you simply changing up the cosmetics, installing new cabinets and countertop or are you reimagining the entire footprint of your kitchen. The end result you hope for is dependent on your budget and vice versa. Kitchen remodels don't always align perfectly with your initial budget. Give yourself some wiggle room.
4. Cheaper Materials Will Always Save You Money on Kitchen Remodels
Cutting corners in kitchen remodels is a bad idea. After all you use this room probably more than any other room in your home. Using cheaper materials means you'll replace them much sooner than you expected or budgeted for. When you go cheap on high-use and highly visible materials like cabinets, countertops, flooring, backsplash and even your fixtures you could end up paying far more in the long run. And remember most higher quality materials have better warranties.
5. It's Best to Buy From a Big Box Store and Find Your Own Handyman
Your local big box store carries a fair selection of products to suit kitchen remodels but wait times are usually long and sometimes the prices are a little higher than a local source. When you turn to a local business you can be assured they have a network of all the necessary professionals you may need as well as a great selection. The reputation of the local business relies on your satisfaction so you know they will treat you right. From the initial planning to putting your design on paper to bringing your remodeling goals to life a local business has your best interests at heart. Not to mention the right team of professionals to make kitchen remodels happen. You definitely want to go with the top professionals.
Trusted Neighborhood Professionals for More Than a Century
For more project-related myth busting and debunking reach out to the professionals at Seiffert Building Supplies. Our trusted professionals treat our Quad Cities neighbors right. And we have for more than a century. For kitchen remodels large and small contact Seiffert Building Supplies. It's no myth they will being you peace of mind.